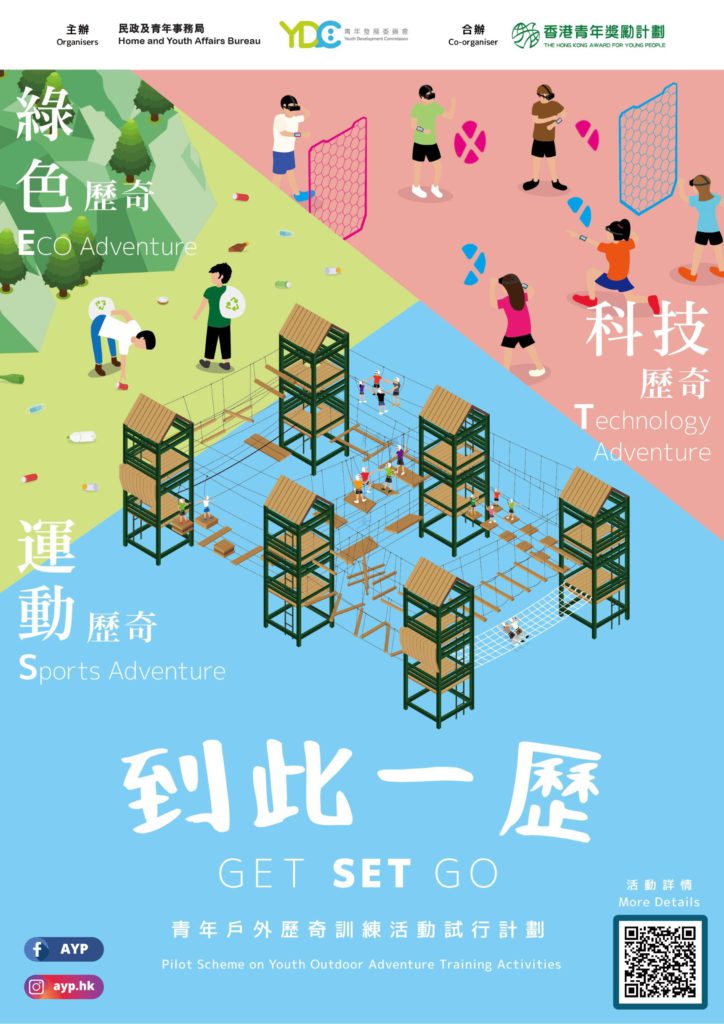 (The programme is full. Thank you for your support!)
The "Pilot Scheme on Youth Outdoor Adventure Training Activities", organised by Home and Youth Affairs Bureau and Youth Development Commission; co-organised by The Hong Kong Award for Young People, is now open for application. This scheme incorporates innovative elements into outdoor adventure training, which are Sports Adventure, Eco Adventure and Technology Adventure.
Pilot Scheme Belief: Improve young people's physical and mental well-being, foster positive thinking, sense of collectivism and resilience in times of difficulties, and emphasize the importance of cultivating positive value and mentality of young people during their growth and development.
Content: Rope Course, Recycling Workshop, Innovative Sports Game etc.
Target: Secondary 3 to 6 students
Type: Participants could choose from Day Camp for 1 day, 2 or 3 days OR Overnight Camp for 2 days 1 night, 3 days 2 nights or 4 days 3 nights
Date: from now until the end of December 2022
Program Time: 9 a.m. to 5 p.m. (Day Camp)
Fee: The program fee is free (transportation and meals included)
Enquiry: 2627 2006
Email: youthadventure@ayp.org.hk
Camp Rules for the prevention of COVID-19